Your guide will demonstrate and teach you to ride your Segway PT before you begin your tour of Historical Monterey.
You will view The Customhouse, the oldest governmental building in California, the state's #1 designated Historical Landmark. The American flag was raised here on July 7, 1846, declaring California as part of the US.
We will roll along the Recreation Trail which is a wide, scenic path that runs along the Monterey Bay. We will cruise by Fishermen's Wharf and Cannery Row to see some of the buildings and areas that played a part in the history of Monterey.
After passing by The Monterey Bay Aquarium we will roll along Wave Avenue and pass by the memorial to Ed "Doc" Ricketts, longtime friend of John Steinbeck and the person who was the inspiration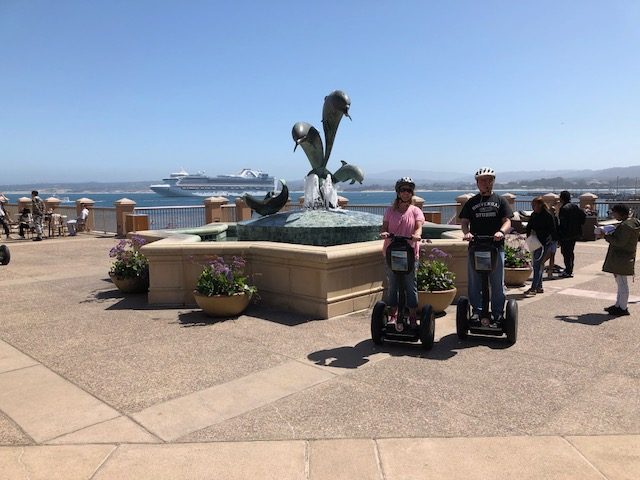 for "Doc" in "Cannery Row", "Sweet Thursday", and other works.
Other sites you will see on your tour:
Monterey State Historic Park
California's First Brick House
Old Whaling Station
San Carlos Borromeo Cathedral
This Segway PT tour will take about 2.5 hours including the training time. Reservations are required. Same day reservations may be possible. Please call 831-324-4438 to set a reservation.
Frequently asked questions:
You may park for free at the American Tin Cannery Outlet Mall parking lot located on Eardley Avenue, off Central Avenue in Pacific Grove. I can validate parking in that lot for three hours.

My shop is located at 125 Ocean View Blvd., Space 120b, Pacific Grove, in The American Tin Cannery Outlet Mall. There is a raised walkway from the parking lot to the American Tin Cannery Outlet Mall. You would cross over, take the escalator down to the first floor, turn left and walk to the end of the building where my shop has only an outside entrance.

Riders must be 12 years old or older. Anyone under 18 must be accompanied by an adult on a separate Segway PT.
Bicycle helmets are required for all riders and will be provided free of charge. Feel free to bring a helmet if you have one.
Close-toed shoes are recommended for safety and comfort.
The weather near The Monterey Bay is usually very nice but changeable. Bring a jacket or sweat shirt. Your Segway PT has a bag to hold items. The temperature is usually quite comfortable, ranging in the 60's.